Artemio Muniz Gets Mentioned By CNN at YR Convention
CNN was in Mobile, Alabama to cover the Young Republican National Convention over the weekend. Our own Artemio "Temo" Muniz was there and he was profiled for their piece The Republicans of the Future?
By Todd Leopold, CNN
Texas delegate Artemio Muniz expands on that point. Muniz, a 32-year-old from Houston, is the son of illegal immigrants. His family was on welfare, sold chips at the ballpark and took items from trash bins to sell.
"We started at the bottom," he says. "We know what bootstrapping means." His parents were given amnesty as part of a 1986 immigration reform bill signed by Ronald Reagan.
He grimaces when he thinks about how some Republicans treat Latinos.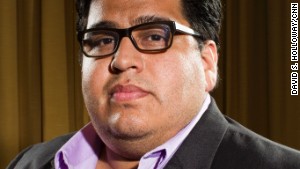 Artemio Muniz, a Texas YR, is the son of illegal immigrants.
"I've been at Tea Party meetings where the lady is saying, 'Let's deport them all,' and the lady that's serving her is an illegal immigrant bringing her nacho chips."
But he became a Republican, he says, because the party represents promise. The Mexican community has pride, he says, and its beliefs fit with the conservatism of the Republican Party and its leaders.
"Reagan was a legit guy that understood the heart," he says. "(George W.) Bush as well. He understood. He had credibility. He was authentic. He knew the experience of being a Texan."
But the GOP has to recognize the problems of the working class, he says.
"It's like any other blue-collar neighborhood," he says. "It's not a Hispanic thing necessarily. Your guy that's living paycheck to paycheck can be any race, and here's a party saying we're going to cut programs. They want to know, what are you going to do to help the family? It's more of being in touch with hard-working people."